OUR TEAM
OUR PHARMACISTS
One of our most popular items. Perfect for everyday use. Exceptional quality and choice.
PHARMACIST & PHARMACY DIRECTOR
Winni joined the yYoung Medicine Mart team in 2014. She received her Bachelor of Science in Pharmacy from the University of British Columbia. With more than 8 years of work experience in the pharmaceutical industry, she has helped thousands of patients to achieve better health and quality of life through medication. She always keeps patients' wellness at the top of her priorities in order to ensure that patients receive the benefits they are entitled to base on their health plan and insurance.
Her multi-language skill (English, Mandarin and Cantonese) along with an upbeat spirit has built a solid following of customers with diverse demographic profile. Her excellent communication skills and genuine care for patients make her a pharmacist that people trust and admire.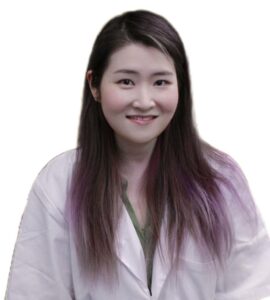 PHARMACIST & PHARMACY MANAGER
Lisa Le is a Certified Diabetes Educator and Pharmacy Manager at our Olympic Village pharmacy. She completed her Bachelor of Pharmacy and Pharmaceutical Science at the University of Alberta and is completing her Doctorate of Pharmacy with UBC.
She has been a practicing pharmacist for 16 years, with 5 of those years as a Pharmacy Manager. Because Lisa has a passion for building relationships with patients, residential group home management and developing an integrated medication management program, she knew that joining an independent and local pharmacy would allow her voice to be heard and valued so we can prioritize and provide specialized services and care catered to each individual or organization for their optimal health.
Lisa has a special interest in Diabetes Education and Management due to seeing an increased incidence of diabetes within our aging population. She believes that people living with diabetes, and their families, should have access to gain the knowledge to self-manage their condition and is devoted to offering support, teaching and initiating behavior change.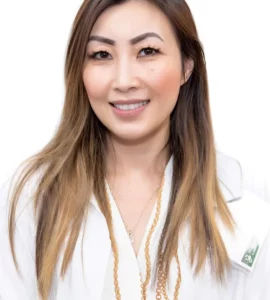 PHARMACIST
Sophia is a pharmacist at both our Olympic Village and Oakridge locations. She received her Bachelor of Science in Pharmacy from UBC. She is dedicated to building lasting relationships with her clients by striving to improve their quality of life through her care. She is very excited to continue using her bilingual skills (fluency in English and Mandarin) to better serve her clients.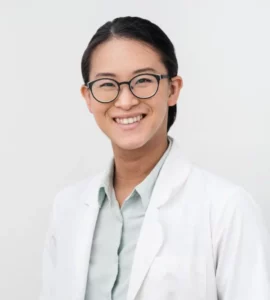 PHARMACIST
Sylvia graduated from the Faculty of Pharmaceutical Sciences at the University of British Columbia in 1999 and has been loving working as a pharmacist ever since. She is a strong advocate for putting patients first and providing patient focused care based on compassion. Sylvia is experienced in providing home visitations for seniors, medication reviews, and injections for her patients. She has a special interest in substance use therapies, asthma care and pediatric care. Sylvia's wide knowledge of pharmacy practice and her commitment to her patients, have lended her the trust of her patients and colleagues.  
In her spare time, Sylvia is a busy mother to three small children and enjoys volunteering at their schools and sports groups. She believes in giving back to others and sharing her professional knowledge with pharmacy students. Sylvia is also a pharmacist facilitator at UBC who teaches pharmacy students in their professional practice labs. She looks forward to serving her patients at yYoung Pharmacy and is proud to be part of a team that aims to provide the utmost care to their patients.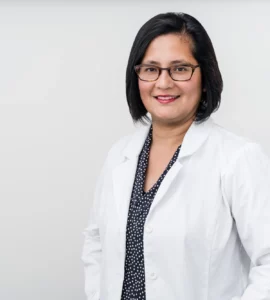 PRODUCT PROCUREMENT SPECIALIST; CERTIFIED PHARMACY ASSISTANT 
Alex chose pharmacy as career in 2006 after enrolling himself in Vancouver Community College's Certified Pharmacy Technician program that year. Soon after graduating, he joined Canada's biggest pharmacy franchise learning and honing his craft. Alex strived to provide each patient with the level of care specific to their needs and situation. He thrived building professional connections with patients in creating a synergic relationship to improve their daily health and wellbeing. He not only worked to better the health of individuals but was entrusted to maintain the company's daily pharmaceutical operations too. With over 14 years of experience in the pharmaceutical sector employed by two of Canada's biggest retail pharmaceutical companies, Alex understands a pharmacy that people choose and value going to involves pricing, selection, and knowledge. That is why, now as a product procurement specialist for yYoung Wellbeing, he works tersely to acquire products at the most reasonable cost so what the consumer will have to pay, or lack thereof, reflects that.
Alex's hobbies and interests mirrors his choice of profession as his biggest achievement is running Vancouver's BMO Marathon two times…so far. He also loves running half marathons, powering through10k's, going on hikes, and shopping. Personal health is wealth.